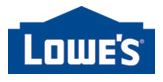 Five months ago, I bought a Whirlpool electric range from the Lowe's that's near my home. After I finished cooking dinner this past Thursday, I noticed that the oven wouldn't shut off. It sounded like it had shut off, but when I opened the oven door half an hour later, it was still producing heat. I tried to turn it off several more times, but it was nothing doing. So, I turned off the breaker on the circuit that led to the range.
The next morning, armed with my Lowe's Protection Plan and receipt, I drove to the Lowe's where I had purchased the range to ask what I needed to do to get it fixed. During the drive, I found myself wondering what kind of bureaucratic hoops the employees of this store were going to make me jump through before they agreed to fix my range. I had no clue that I was in for a very pleasant surprise. After I told a Customer Service Representative named Chastity my story, she immediately took the Protection Plan booklet and my receipt from my hand and said, "Please have a seat, I'll take care of this." She made numerous phone calls, was put on hold several times and all the while she was cheerfully helping other customers.
Ten minutes later, Chastity motioned me to come up to the counter, handed me a phone receiver and said, "The woman on the phone would like to speak with you." The woman asked me for my street address and zip code and said a repair person would be at my house on Monday somewhere between 12:00 noon and 4:00 PM and that there would be no charge—which was exactly what I wanted to hear!
After I hung up the phone, Chastity thanked me for coming in and gave me a big hug. I was so impressed with the way she handled my situation, that I spoke to the store manager, sang Chastity's praises to her and later called Lowe's corporate office and did the same. I've never had a reason to brag about Lowe's before, but I do now. Thank you, Chastity!
References: