Watch this short video and see what implementing The Engagement Formula can do for your organization .

The book, The Engagement Formula, presents a new leadership model that guarantees full employee engagement. If you implement this new leadership model in your organization, 100 percent of your employees will become engaged with their work - all working at their full potential. Sound impossible?

It is impossible under traditional management methods that emphasize top down direction and control. On the other hand, full employee engagement is routine when you utilize the leadership model presented in this book.

---

My new book has just been released in India and contains two additional case studies of Indian companies whose leadership practices embrace The Engagement Formula

My new book has just been released in India and contains two additional case studies of Indian companies whose leadership practices embrace The Engagement Formula.

"Ross Reck has made arguably the most difficult agenda in organizations look so doable in The Engagement Formula. The book is an uncomplicated read, with simple concepts and corroborative evidence from many frontline companies. The implementation guide is indeed a user-friendly tool kit that succinctly addresses all the jigsaw pieces to make the gestalt look complete. A perfect book for anyone who struggles with why employees do not seem engaged!"

--Prabir Jha, Senior VP and Chief Human Resource Officer, Tata Motors Limited, Mumbai Area, India
Largest Indian Automobile Manufacturer and Manufacturer of Land Rover and Jaguar

"This book is the complete package when it comes to employee engagement. The Engagement Formula is grounded in relevant theory (McGregor and Maslow), connected to reality (dozens of successful companies are already using it) and it's dead on."

--Harry Paul, coauthor of Fish! and Who Kidnapped Excellence?

The Engagement Formula is for those who know little about motivational behaviour in the workplace. If you are a manager and your staff turnover is above 10% per year, this is a book for you. If you never heard of Southwest Airlines, Google or Zappos success stories about how to create a crowd of engaged fans, this is the best money you will ever spend.

--Martin Wiedenhoff, Digital Marketing Evangelist at 360decision.com, Montreal, Canada


"The key competitive advantage for any organization is having an engaged workforce. This book shares steps on how some of the world's best organizations retain their edge. Learn how to achieve higher levels of loyalty, productivity and profitability."

--Pirya Chetty Rajagopal, Partner, Stanton Chase International, Bengaluru Area, India

Realizing your Mortality can Break down Barriers in a Hurry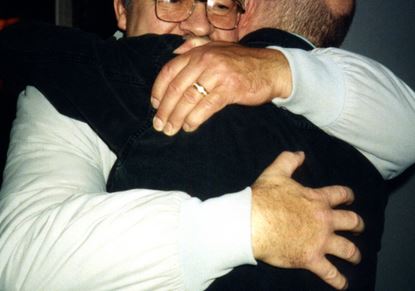 Recently I had to go to a hospital twice daily to receive an infusion of an antibiotic. On one occasion there was a man receiving a blood transfusion who was also going through chemotherapy. His wife was there with him. There was also another woman who was receiving a blood transfusion who was also going through chemotherapy. The two were exchanging stories about their experiences fighting cancer when the woman, who was seated next to me, started to cry. The man's wife immediately got up from her chair and gave the woman a hug. She then proceeded to give me a hug as well. At this point, a nurse walked in and said, "What is going on?" I responded with, "Love, that's what's going on!" The nurse smiled and said, "How wonderful!" The four of us had known each other for less than ten minutes and we were already exchanging hugs.
National Adoption Day is a Celebration of True Joy


Saturday, November 22, 2014 was National Adoption Day which is an event to raise awareness about children without families. In Maricopa County, the county which surrounds Phoenix, Arizona, 311 adoptions were finalized that day. This means that 311 happy children now have permanent families. The day is a happy and joyous occasion. My wife and I adopted our youngest daughter, Nancy, 28 years ago. It marked one of the happiest and most exciting days of our lives. She has truly been a gift that keeps on giving. Not only is she a wonderful human being, she's also a very caring and outstanding kindergarten teacher. This adoption brought everyone in our family true joy.